mopa-sco-success-stories-guest-web
Mariem Mohammed Al Sayed Al Hashimi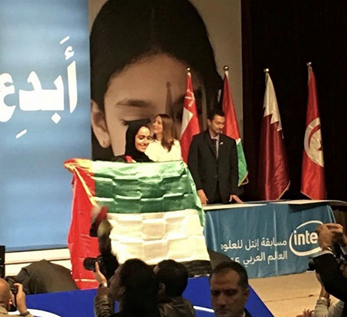 Bachelor of Economics and Management
Bachelor of Economics and Management
Mariam Mohammed Al Hashimi, a student at the Sorbonne University in Abu Dhabi, participated in the science competition "Think twice". It was her first competition for the first time at the state level. The second was her participation in a new invention, "Solar Panel of Plastic" And was honored by His Highness Sheikh Abdullah bin Zayed Al Nahyan. She also won the second place of the project "Transforming Plastic to Petroleum" and was awarded the "Best Young Man in the Programs of the Emirates Foundation." She was also honored by His Highness Sheikh Abdullah Bin Zayed, As well as being honored by the Dubai Municipality for being selected as a speaker in the event Innovation Mechanism ", and also as the director of a youth workshop coordinated by the municipality.
Al-Hashemi was nominated to go to the United States in 2015 for the Intel ISEF, the world's largest science competition that brought together 1,700 students from around the world. She also went to Egypt to participate in the Intel Arab World competition, which brought together all Arab countries , And won the first place in the field of energy and second place on all projects in the Arab countries.
Hashemi talked about joining her sister and her team to the invention of the "Transparent Solar Panel," enabling them to invent it, in addition to inventing a dye that absorbs the sun's energy, and then they were nominated to go to the USA for the second time in the Intel ISEF competition, They were awarded the "Special Sustainability Award" and were honored by His Highness Sheikh Mohammed bin Rashid Al Maktoum, Vice President and Prime Minister of the UAE and Ruler of Dubai, upon their return from the United States.
Has presented a UAE policy aimed at reducing the percentage of CO 2 emissions in the Future Policy Factory competition. It has achieved the first position in this field and has the opportunity to present this UAE policy to HE Reem Al Hashemi, Minister of State for International Cooperation.
She was selected as Ambassador of the UAE Youth Ambassadors to the State of China under the patronage of the Crown Prince of Abu Dhabi. She spoke at the World Skills Conference in the presence of 30 ministers and ministers from all over the world for her contributions to innovation, Bin Zayed for future generations.